Descrizione
EK-XRES 140 Revo D5 PWM (include pompa D5 PWM) – Glass e' un top ad elevate performance per pompe EK-D5 con vaschetta integrata realizzata in vetro borosilicato.
Il controllo PWM consente di regolare la velocità di rotazione della pompa in base alla temperatura della CPU (Per questa pompa è obbligatorio il collegamento con un header a 4-pin della scheda madre)
Questo prodotto dispone di due fori filettati G1/4 (un ingresso, un uscita) nella parte inferiore e di tre fori sul top pensati come fori utilizzabili per il riempimento. (Per l'utilizzo di un foro superiore come ingresso per il liquido EK consiglia di montare internamente al top un EK-AF Extender 30mm M-F G1/4 – Nickel (ref: EK46186) )
EK raccomanda di utilizzare i propri raccordi EK-ACF per non incorrere in problemi di incompatibilità.
Il tubo è realizzato in vetro borosilicato, mentre il top della pompa è in Acetal di alta qualità.
E' possibile montare direttamente questa pompa utilizzando la staffa inclusa.
E' inoltre possibile upgradare il prodotto con una staffa EK-UNI Pump Bracket (120mm FAN) – regolare o verticale per consentire il montaggio su un pattern di fori per ventola da 120mm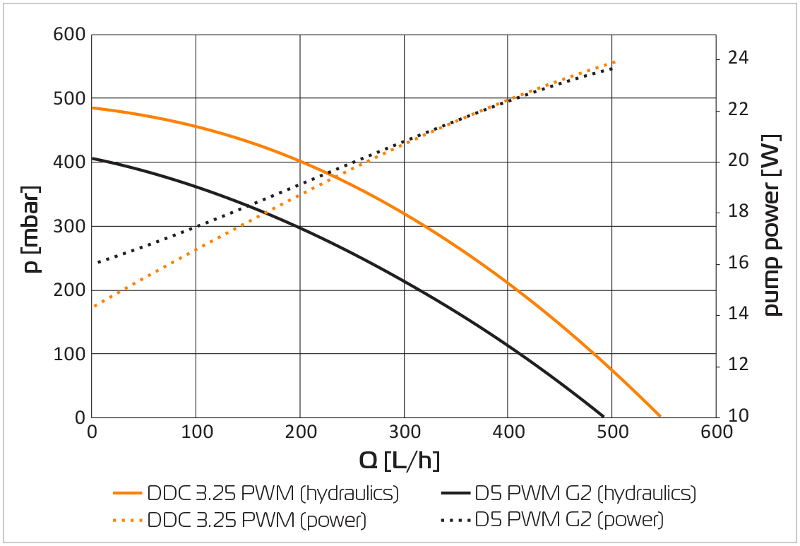 Pompa D5
– Motore: Electronically commuted spherical motor
– Voltaggio: 12V DC
– Potenza: 23W
– Prevalenza massima: 3.9m
– Portata massima: 500L/h
– Temperatura massima 60°C
– Materiali: Stainless steel, PPS-GF40, EPDM O-rings, Aluminium oxide, hard coal
– Power connector:  4-Pin Molex- and 4-Pin PWM FAN connector
Operational regime:
– PWM duty cycle: ~ 20-100%
– Default behavior: Runs at 100% duty cycle when no PWM feedback signal is present
Technical specifications:
– Reservoir diameter 60mm (Glass is 3.2mm thick)
– Reservoir free volume: ~ 205mL
– Overall unit height: 190mm
– Mounting hole pattern: 65x34mm
Enclosed:
– EK-XRES 140 Revo D5 PWM (incl. pump) – Glass
– Mounting clip with rubber insert
– Self-adhesive mounting hole pattern sticker
– Anti-vortex PU foam
– Mounting mechanism (incl. required Allen keys)
– Installation manual
Made in Slovenia – EU!
Pump motor made in Hungary – EU!
PLEASE NOTE:
EK-D5 PWM G2 is an enhanced variant of the world renown Xylem D5 with improved power management control, which allows for better speed control trough motherboard BIOS or dedicated fan controller.
The D5 pump is water lubricated, in other words, it uses a wet rotor design. Therefore, it is strongly recommended not to run the pump dry.
The EK-UNI Pump Bracket bracket is just for showcase and it is not included with the unit.
This product should NOT be installed with any aluminum Fluid Gaming parts!