Descrizione
EK-XRES 140 Revo D5 RGB PWM e' un top ad elevate performance per pompe EK-D5 con vaschetta integrata dotata di illuminazione RGB (controller non incluso, collegamento compatibile con le principali motherboard dotate di uscite RGB 12V. La freccia sul connettore deve essere allineata al +12V dell'header RGB della motherboard.

Il controllo PWM consente di regolare la velocità di rotazione della pompa in base alla temperatura della CPU (Per questa pompa è obbligatorio il collegamento con un header a 4-pin della scheda madre)
Questo prodotto dispone di due fori filettati G1/4 (un ingresso, un uscita) nella parte inferiore ed di un foro sul top utilizzabile unicamente per il riempimento della vaschetta. EK raccomanda di utilizzare i propri raccordi EK-ACF per non incorrere in problemi di incompatibilità.
Sono inclusi un inserto anti-cyclone, una spugna anti ed il tubo EK-HD.
Il tubo è realizzato in Acrilico, mentre il top della pompa è in Acetal di alta qualità.
E' possibile montare direttamente questa pompa utilizzando la staffa inclusa.
E' inoltre possibile upgradare il prodotto con una staffa EK-UNI Pump Bracket (120mm FAN) – regolare o verticale per consentire il montaggio su un pattern di fori per ventola da 120mm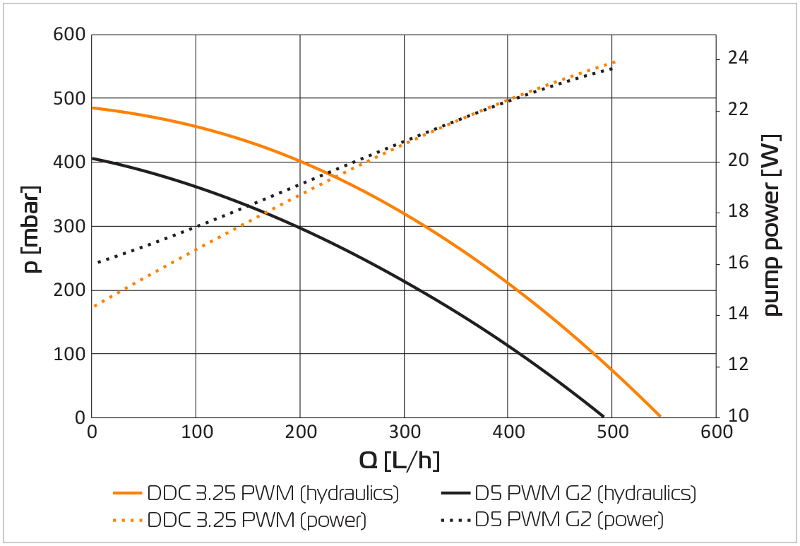 Pompa D5
– Motore: Electronically commuted spherical motor
– Voltaggio: 12V DC
– Potenza: 23W
– Prevalenza massima: 3.9m
– Portata massima: circa 500L/h
– Temperatura massima 60°C
– Materiali: Stainless steel, PPS-GF40, EPDM O-rings, Aluminium oxide, hard coal
– Power connector:  4-Pin Molex- and 4-Pin PWM FAN connector
Operational regime:
– PWM duty cycle: ~ 20-100%
– Default behavior: Runs at 100% duty cycle when no PWM feedback signal is present
Pump electrical and mechanical properties:
– Motor: Electronically commuted spherical motor
– Rated voltage: 12V DC
– Power consumption: 23W
– Maximum pressure head: 3.9m
– Maximum flow: 1500L/h
– Maximum system temperature: 60°C
– Materials: Stainless steel, PPS-GF40, EPDM O-rings, Aluminium oxide, hard coal
– Power connector:  4-Pin Molex- and 4-Pin PWM FAN connector
Technical specifications:
– Reservoir diameter 60mm
– Reservoir free volume: ~ 205mL
– Overall unit height: 190mm
– Mounting hole pattern: 65x34mm
– RGB connector classic 4-pin (12+ R G B)
Made in Slovenia – EU!
Pump motor made in Hungary – EU!
PLEASE NOTE:
EK-D5 PWM G2 is an enhanced variant of the world renown Xylem D5 with improved power management control, which allows for better speed control trough motherboard BIOS or dedicated fan controller.
The Therefore, it is strongly recommended not to run the pump dry! The D5 pump is water lubricated, in other words, it uses a wet rotor design.
The EK-UNI Pump Bracket bracket is just for showcase and it is not included with the unit.
The installed 4-pin RGB LED stripe is compatible with every major motherboard manufacturer and mainstream RGB controller.
Do not clean acrylic tube with alcohol derivates or other solvents as the acrylic may crack!
This product should NOT be installed with any aluminum Fluid Gaming parts!